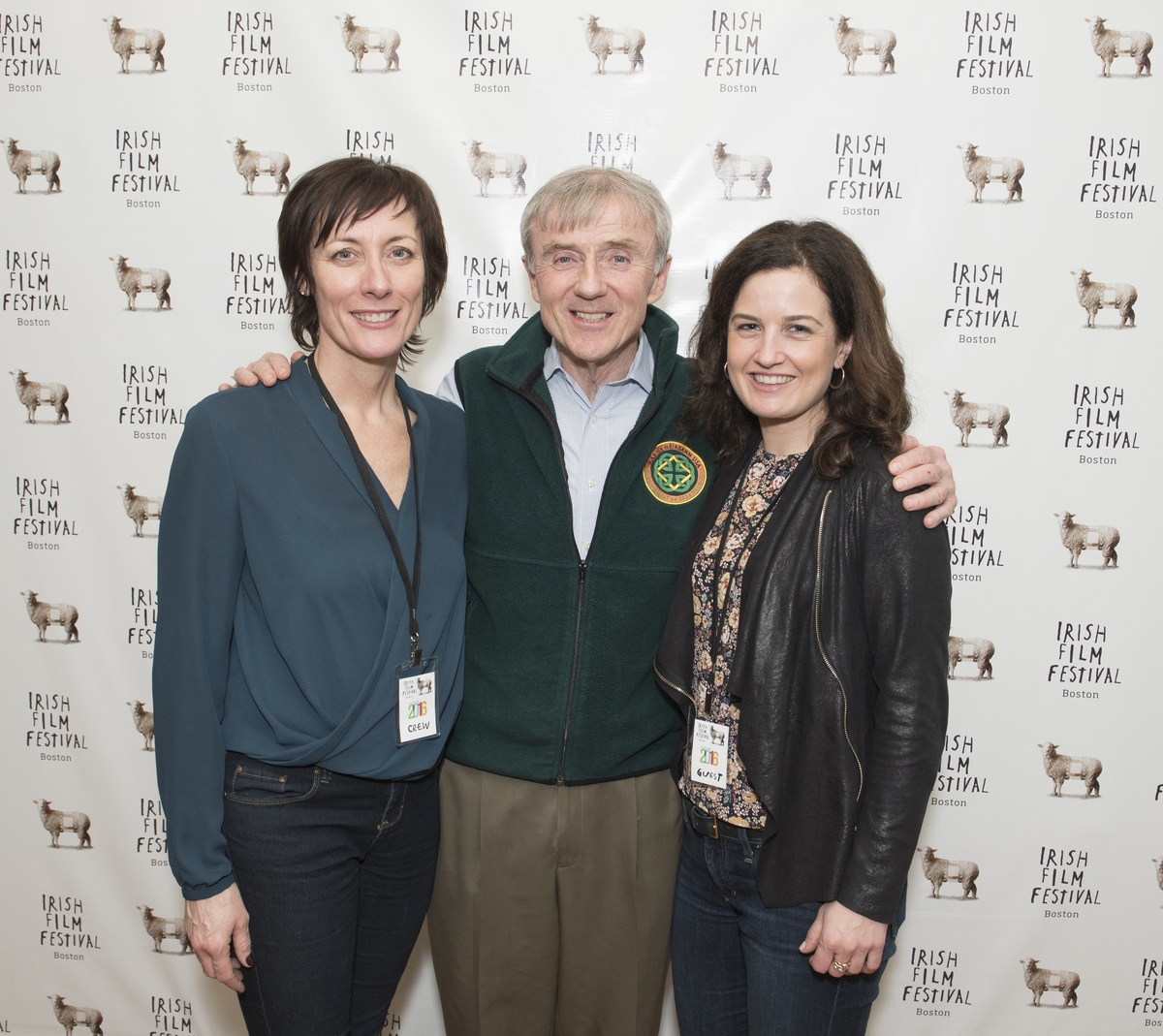 2016 Irish Film Festival, Boston Awards
Best Breakthrough Feature, YOU'RE UGLY TOO
Directed by Mark Noonan

Most Inspiring Short, MORE THAN GOD
Directed by Kev Cahill

Director's Choice Feature, OLDER THAN IRELAND
Directed by Alex Fegan
Director's Choice Short, CITY OF ROSES
Directed by Andrew Kavanagh
Global Vision Documentary, UNBREAKABLE
Directed by Ross Whitaker
2016 Program
FEATURES
AN KLONDIKE
2015/Ireland (113 min)
Director: Dathaí Keane
When the 3 Connolly brothers make their way from the silver mines of Montana to the goldfields of the Klondike they hadn't reckoned on having to deal with bigwig Jacob Hopkins and his schemes.
GARAGE
2007/Ireland (85 min)
Director: Lenny Abrahamson
Josie (Pat Shortt) has spent 20 years as the caretaker of a crumbling petrol station in small-town Ireland. Despite loneliness and the fact that his neighbours treat him as a figure of fun, he is always good natured, absurdly optimistic and, in his own peculiar way, happy; he has his place - it might not be great, but it his story. Garage is the story of Josie hapless search for intimacy over the course of a summer which sees his little niche threatened and his life changed forever.
MICHAEL COLLINS
1996/Ireland (133 min)
Director: Neil Jordan

Neil Jordan's historical biopic of Irish revolutionary Michael Collins, the man who led a guerrilla war against the UK, helped negotiate the creation of the Irish Free State, and led the National Army during the Irish Civil War.
MY NAME IS EMILY
2014/Ireland (94 min)
Director: Simon Fitzmaurice
On her 16th birthday, Emily and her new friend Arden set out to break her troubled biological father out of a psychiatric institution.
mynameisemilythefilm.com
YOU'RE UGLY TOO
2015/Ireland (81 min)
Director: Mark Noonan

Will is released from prison on compassionate leave to care for his niece Stacey after the death of her mother. As they both head into the sleepy Irish midlands and attempt to be a family, they suffer a series of setbacks; Stacey is refused admission to the local school because of her recently developed narcolepsy; Will repeatedly comes close to breaking his prison-ordered curfew; and his attempts at being a father figure to her prove disastrous… As Stacey's future hangs in the balance and Will must reckon with his own demons they search for a new way forward together.
You're Ugly Too was written and directed by Mark Noonan and is his debut feature film. The film stars Aidan Gillen (Game of Thrones) as Will, who is released from prison on compassionate leave to care for his niece Stacey (Lauren Kinsella; Albert Nobbs), after the death of her mother.
IMDb
SHORT
A FATHER'S LETTER
2015/Ireland (12 min)
Director: Joe Dolan
AN CRANN
2015/Ireland
Director: Emma Carlson (15 min)
For thirty-five years, Aisling and Brendan have been married. For thirty-five years they've lived together in Donegal. For thirty-five years a gnarled cherry tree has stood watch beside their house. Until one morning, their new neighbour cuts it down.
A TERRIBLE HULLABALOO
2015/Ireland (10 min)
Director: Ben O'Connor
BARING ARMS
2015/Ireland (10 min)
Director: Colm Quinn
BLIGHT
2015/Ireland (15 min)
Director: Brian Deane
A young priest is sent to battle dark supernatural forces threatening a remote Island community.
BIG BIRD
2014/Ireland (10 min)
BIG BIRD is the story about two underdogs in love finding each other.
THE CAPTORS
2015/Ireland (16 min)
Director: Chris Baugh
The Captors is a crime thriller that follows a trio of kidnappers who are faced with an unexpected dilemma when their wealthy victim calls their bluff.
Facebook

CITY OF ROSES
2015/Ireland (9 min)
Director: Andrew Kavanagh
2016 Honoree: Director's Choice Short
One Halloween night a smouldering suitcase was pulled off a bonfire in Dublin and thus was saved a true story of love, loss and hope.
Facebook | Twitter

EVEN DROIDS HAVE FRIENDS
2015/Ireland (13 min)
Directors: Caroline Grace-Cassidy and Sorcha Furlong
At a local Star Wars convention, two middle aged men, still masquerading as r2d2 and C-3PO are torn apart when one wants to go solo.
FALLEN BIRD
2015/Ireland (10 min)
Directors: Nathan Fagan and Deirdre Mullins
While serving a sentence for assault in Wheatfield Prison, young prisoner Eric Boylan began channeling his anger and frustration into one of his childhood passions: painting. Now that he's been released, Eric has set out to pursue a career in fine art - while attempting to navigate the obstacles of life as an ex-prisoner.
FROM ASH
2015/Ireland (9 min)
Director: Eamonn Dunne
Supported by ID2015
Craft, design, sport and passion all come From Ash.
GOODBYE DARLING
2015/Ireland (12 min)
Director: Maria-Elena Doyle
GRANITE AND CHALK
2015/Ireland (12 min)
Director: Patrick Hodgins
@HOME
2015/Ireland, Australia (11 min)
Director: Liam Burke
A portrait of Melbourne's ageing Irish community as they embrace social media to narrow the distance between Australia and Ireland.

IN THE VALLEY OF THE MOON
2015/Ireland (14 min)
Director: Brian Rossney
During the madness of WW1 trench warfare, an Irish and German soldier meet in No Mans' Land.
LET THOSE BLUES IN
2015/Ireland (9 min)
Director: Paul Webster
A portrait of Paddy Smith, an Irish Blues musician who used music to conquer his demons.
MORE THAN GOD
2015/Ireland (9 min)
Director: Kev Cahill

A short comedy set in modern Ireland that follows the attempts of a pious doctor to uncover his wife's suspected affair, but instead is confronted by the rigidity of his religion, the boundaries of his love for his daughter, and his obligation to resuscitate her lover's husband.
MR. YEATS & THE BEASTLY COINS
2015/Ireland (10 min)
Director: Laura McNicholas, Ann Marie Hourihane
MY LIFE FOR IRELAND
2015/Ireland (14 min)
Director: Kieron Walsh
NEW IRELAND
2014/Ireland (8 min)
Director: Gerard McKenzie
In the name of the Father,
and of the Son,
and of the Holy Euro.
Amen.

PAT
2015/Ireland (12 min)
Director: Shaun O Connor
Pat (Jon Kenny) is a retired postman who still goes on his daily rounds in the local village. The community love him, but the bullying Mangon (Jack Walsh) wants to put a stop to the pretence.
QUEEN OF THE PLOUGH
2015/Ireland (12 min)
Director: Cara Holmes
Farmers, Joanne Deery and Laura Grant love ploughing. They both come from rural farming backgrounds and both are highly competitive. Laura is a young student from Co.Offaly, Joanne is a working mother of three from Co.Monaghan. Joanne has earned the title three times in a row but Laura's aim is to become Ireland's youngest Queen.
@cara_holmes
THE CHERISHING
2015/Ireland (15 min)
Director: Dave Tynan
THE RIVERMAN
2015/Ireland (17 min)
Director: Richard Gorodecky
Connie Corcoran has dedicated his life to the mighty Blackwater river and, over the years, its currents have shaped him.
He is one of Ireland's great salmon fishing guides, but if the salmon stocks continue to decline, he may be one of its last.
The River Man is a fated love story between a man and a river.
THE PARTY
2015/Ireland (13 min)
Director: Andrea Harkin
SPACEMAN THREE
2008/Ireland (12 min)
Director: Hugh O'Connor
Astro-geologist Dr. Glen Hosey is in space for the first time. His unusual method of passing the time isn't exactly compatible with the peaceful voyage the other two astronauts anticipated....
IMDB

SPIORAD NA SAMHNA -- SPIRIT OF SAMHAIN
2014/Ireland (9 min)
Director: Dessie Baker
Spiorad na Samhna is a short film about the origins of Ireland's biggest Hallowe'en Carnival in Derry, during the Troubles in the 1980s. It also traces the origins of Hallowe'en from the ancient Celtic festival of Samhain.
UNHINGED
2015/Ireland (3 min)
Director: Tom Caulfield
The squeaky hinge gets the oil. But when the squeak escapes the oil its sure to get you!

VIOLET
2015/Ireland
Director: Maurice Joyce (8 min)
Violet is the dark, cautionary tale of a young girl who despises her reflection. Tired of the abuse, Violet's reflection decides she's not going to take it anymore.
WIFEY REDUX
2015/Ireland | USA (22 min)
Director: Robert McKeon
All is well in the Prendergast home. Or, at least, that is what Jonathan Prendergast would have you believe. But his relationships with his wife and teenage daughter- and his own sanity - are put to the test when he becomes maniacally obsessed with warding off his teenage daughter's new boyfriend.
Facebook | Twitter | wifeyredux.com
DOCUMENTARY
A DOCTOR'S SWORD
2015/Ireland (80 min)
Director: Gary Lennon

The remarkable survival story of Dr. Aidan MacCarthy and his family's search for the man that gave him a samurai sword from the ashes of Nagasaki.
A NIGHT OF STORYTELLING (OIDCHE SHEANCHAIS)
1935/Ireland (12 mins)
Director: Robert Flaherty
A lost film until the 2013 discovery of a 35mm nitrate print at Harvard University, Robert Flaherty's 1935 short film Oidhche Sheanchais offers a disarming and fascinating distillation of his ardent belief in cinema as a mythopoeic art and folkloric tradition.
BEING AP
2015/Ireland | United Kingdom (103 min)
Director: Anthony Wonke
'Being AP' is a feature length documentary which follows AP McCoy as he pursues his 20th title. Set against the inherent drama and theatre of National Hunt racing, this intimate but epic film follows an extraordinary man as he faces up to the ultimate decision. Even if you've never been to a race course, this fascinating portrait will engage, entertain and move you.
OLDER THAN IRELAND
2016/Ireland (77 min)
Director: Alex Fegan
2016 Honoree: Director's Choice Feature
OLDER THAN IRELAND is a landmark documentary that tells the story of a hundred years of a life as seen through the eyes of thirty Irish centenarians.
Directed by Alex Fegan, OLDER THAN IRELAND features thirty men and women aged 100 years and over. Often funny and at times poignant, the film explores each centenarian's journey, from their birth at the dawn of Irish independence to their life as a centenarian in modern day Ireland. OLDER THAN IRELAND's observational style offers a rare insight into the personal lives of these remarkable individuals.
Reflecting on such key events as the day they got their first pair of shoes, the thrill of their first kiss, from the magic of their wedding day to the tragic loss of their loved ones, these centenarians have lived through it all. Having witnessed a century of immense social, political and technological change each centenarian has a unique perspective on life and its true meaning.
From the oldest Irish person ever on record, 113-year-old Kathleen Snavely to Ireland's oldest man, 108-year-old Luke Dolan we meet a colourful cast of characters from all walks of life from the four corners of Ireland. These centenarians truly are OLDER THAN IRELAND, they are our living history and these are their extraordinary stories.
Facebook | @SnackBoxFilms
TASTE: WHAT'S GOING ON LIVE AT THE ISLE OF WIGHT
2015/United Kingdom (78 min)
Director: Murray Lerner
Academy Award winning Director, Murray Lerner explores Irelands seminal rock band 'Taste' with unseen footage from the trio's now legendary performance at the Isle Of Wight Festival 1970.
THE MAYOR OF BOSTON, MY SON
2015/Ireland | USA (25 min)
Director: Mikey Ó Flatharta
Martin J. Walsh took his seat as the 54th mayor of Boston in January 2014. Narrated by his mother, Mary Walsh, this is the inspirational story of the hardships overcome and the familiar immigrant story, that drove Martin J. Walsh to take on the biggest battle of his political career and succeed.

UNBREAKABLE: THE MARK POLLOCK STORY
2014/Ireland (80 min)
Director: Ross Whitaker
Irish Film Festival, Boston Honoree: Global Vision Documentary 2016
Filmed over six years, Unbreakable is the deeply personal story of a couple rebuilding their lives after a traumatic accident.

After becoming the first blind person to race to the pole, adventurer Mark Pollock proposed to his girlfriend Simone George and they planned their summer wedding. But just four weeks before they were due to be married, a freak fall from an upstairs window left Mark paralysed from the waist down. Unbreakable tells the story of how Mark and Simone rebuilt their lives and work together to find a cure for spinal injury.
markpollocktrust.org
THE WOMEN'S COUNCIL - WOMEN OF THE REVOLUTION
2015/Ireland (51 min)
Director: Gerry McColgan
Cumann na mBan- Mná na Réabhlóide (Women of the Revolution) reveals the largely untold story of an extraordinary group of Irish revolutionary women during the turbulent years 1914 to 1923. Much of the work and activities of these heroic women has been forgotten or overlooked, their organisation was neutralised by former colleagues in arms who became the rulers of the new Irish Free State in 1923.This documentary provides the opportunity to bring the contribution of these nationalist women, to the Independence struggle, fully into the light.
Narrated by former President of Ireland Mary McAleese.
2016 Festival Schedule at a Glance