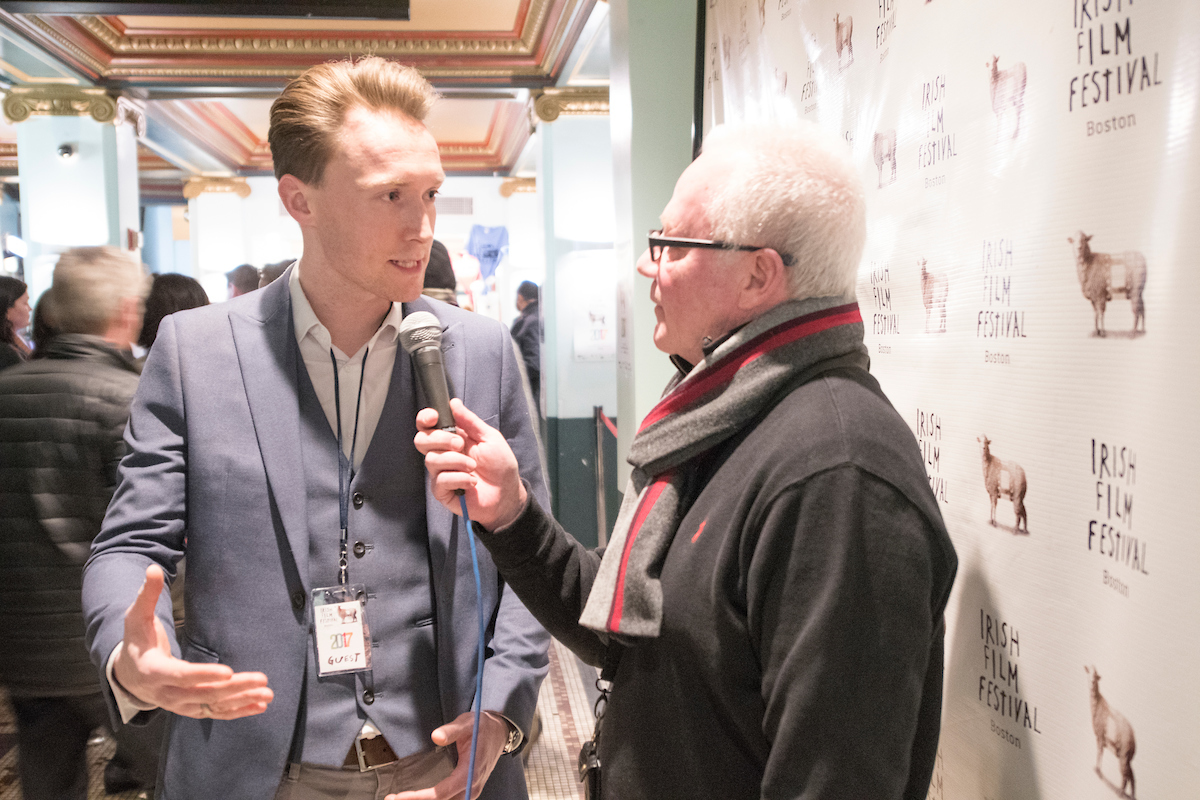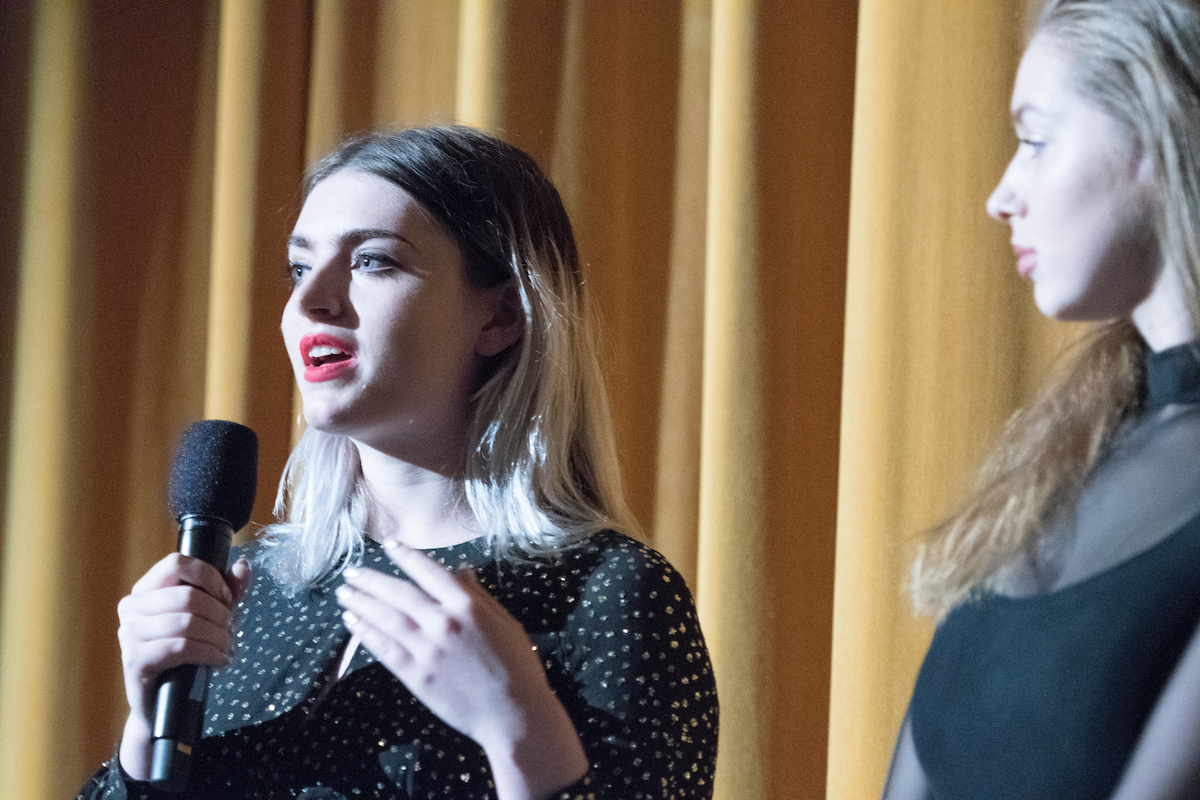 2017 Irish Film Festival, Boston Awards
2017 Program
FEATURES
A DATE FOR MAD MARY
2016/Ireland (82 min)
Director: Darren Thornton
'Mad' Mary McArdle returns to Drogheda after a short spell in prison - for something she'd rather forget. Back home, everything and everyone has changed. Her best friend, Charlene, is about to get married and Mary is maid of honor. When Charlene refuses Mary a 'plus one' on the grounds that she probably couldn't find a date, Mary becomes determined to prove her wrong. But her attempts at dating are a disaster and she winds up feeling more alone… until she meets Jess and everything changes. A DATE FOR MAD MARY is a tough and tender story about friendship, first love, and letting go of the glory days.
DEAD ALONG THE WAY
2016/Ireland (87 min)
Director: Maurice O Carroll
A hapless pair of wedding videographers find themselves dealing with a dead body, overly enthusiastic Gardai, fertility treatment, a vengeful gangster... oh, and an imminent wedding.
OUT OF INNOCENCE
2016/Ireland (108 min)
Director: Danny Hiller
A newly born baby is washed up on a beach – this baby has been stabbed before entering the water. At the same time, a young mother gives birth to a stillborn baby 50 miles away and secretly buries the body on the families small holding. A link is made – wrongly– between the two babies. After a questionable police investigation, this young mother is accused on two counts of murder. Even though the science and evidence do not stack up, still she is pursued and ultimately committed to trial.
The case quickly sparks national outrage. At a time of much social discord and change in Ireland, marked by religious sectarianism, the abortion debate and the emergence of the first women's movement - the young mother finds herself the unwitting central figure in a stubborn contest of the individual versus the State.
THE YOUNG OFFENDERS
2016/Ireland (83 min)
Director: Peter Foott
Inspired by the true story of Ireland's biggest cocaine seizure in 2007, THE YOUNG OFFENDERS is a comedy road movie about best friends Conor and Jock, two inner-city teenagers from Cork who dress the same, act the same, and even have the same bum-fluff mustaches. Jock is a legendary bike thief who plays a daily game of cat-and-mouse with the bike-theft-obsessed Garda Sergeant Healy.
SHORTS
ADULTING
2016/Ireland (20 min)
Co-directors: Linda Bhreathnach and Justin Davey
BREATHE
2016/Ireland (14 min)
Director: James Doherty
BREATHE is the story of a hardy Irish Traveller who becomes increasingly concerned with his nine year-old son's femininity and sets about toughening him up.
>> View trailer
BETWEEN US
2016/Ireland (10 min 16 sec)
Director: Daithí Ó Cinnéide
A son and his traditional Irish father struggle to find common ground after the son starts questioning his gender identity in rural Ireland.
>> Trailer
THE CLIMB
2016/Ireland/United Kingdom (9 min 20 sec)
Director: Lynne Davison
DELICATE THINGS
2016/Northern Ireland (17 min)
Director: Patrick Maxwell
Sometimes in life, its the delicate things that can save you.
DEAR MARIANNE
2015/Ireland/UK (6min 13 sec)
Director: Mark Jenkin
DISAPPEAR
2016/Ireland (10 min 44 sec)
Director: Shaun O' Connor
GRIDLOCK
2016/Ireland (19 min 45)
Director: Ian Hunt Duffy
GRIDLOCK is a thriller set during a traffic jam on a country road. When a little girl goes missing from one of the cars, her father forms a desperate search party to find her, and soon everyone is a suspect.
GROUNDLESS
2016/Ireland (10 min 20 sec)
Director: Eimear Callaghan
HAND IN HAND
2016/Ireland (10 min 20 sec)
Director: Sarah Dempsey
HAND IN HAND is a documentary that takes a look into the lives of Gay and lesbian couples in Ireland. They talk about how they first met, what they love about their partner and even talk about surrogacy.
THE LADIES
2016/Ireland (9 min 44 sec)
Director: Jake McKone
LILY
2016/Ireland (22 min)
Director: Graham Cantwell
Lily, a girl with a secret on the cusp of becoming a young woman, is faced with the greatest challenge of her young life.
>> View trailer
LITTLE DOLL
2016/Ireland (12 min)
Director: Kate Dolan
In LITTLE DOLL, two girls face the confusion and uncertainty of developing a same-sex first crush.
>> Trailer
THE NATION HOLDS ITS BREATH
2016/Ireland (19 min 50 sec)
Director: Kev Cahill
TIME AND AGAIN
2016/Ireland (13 min 01 sec)
Director: Aidan Largey
TERMINAL
2016/Ireland (10 min 50)
Director: Natasha Waugh
TERMINAL is a short film about the decisions women make in the face of overwhelming personal circumstance. A girl and a woman meet at an airport departure gate. Just before they board a plane to Manchester, we witness a private exchange as they share the different reasons that brought them to this moment, and the traumatic journey that awaits them. This film aims to high-light women's reproductive rights in Ireland.
REEL TIME
2016/Ireland (1min 54 sec)
Director: Ken Womack
DOCUMENTARY
ATLANTIC
2016/Ireland (75 min)
Director: Risteard Ó Domhnaill
Narrated by Emmy Award-winning actor Brendan Gleeson, ATLANTIC follows the fortunes of three small fishing communities - in Ireland, Norway and Newfoundland - as they struggle to maintain their way of life in the face of mounting economic and ecological challenges.
As the oil majors drive deeper into their fragile seas, and the world's largest fishing companies push fish stocks to the brink, coastal people and the species they rely on may be reaching a point of no return.
Filmed in some of the most remote and breathtaking locations in the North Atlantic, and at close quarters with some of the sea's most captivating characters, Atlantic will bring the very personal stories in the vital resource debate to the fore, exploring how three modern day communities must learn from the past in order to secure a brighter future.
BOBBY SANDS: 66 DAYS
2016/Ireland (105 min)
Director: Brendan Byrne
In the spring of 1981, Irish Republican Bobby Sands' 66-day hunger strike brought the attention of the world to his cause.
Drawing on an Irish Republican tradition of martyrdom, Sands' emotive, non-violent protest to be classified as a political prisoner became a defining moment in 20th century Irish history.
Sands' death after 66 days marked a key turning point in the relationship between Britain and Ireland,and brought a global spotlight to the Northern Irish conflict, which eventually triggered international efforts to resolve it.
66 DAYS is a major feature length documentary exploring Sands' remarkable life and death, 35 years on from his ultimate sacrifice. The spine of the film is comprised of Sands' own words, drawn from his hunger strike diary, a unique insight into the man and his beliefs as he embarked on his final journey.
BORN AND REARED
2016/Ireland (66 min)
Director: Henrietta Norton
BORN AND REARED is a moving documentary that explores contemporary Northern Ireland through the lives of four men living in the aftermath of violent conflict. It's a story about reimagined identity of place and the fragility of masculinity.
Filmed over a year with the men in and around their homes, the filmmakers focused on the stories that took place long after the cameras had left the news story that was Northern Ireland.
The four characters are all vulnerable and strong. Their stories are powerful, courageous, moving and contemporary.
What happens to the identities of men when the war ends and the roles previously held are no longer accepted or needed? How do you go from being a 'soldier', to being a carpenter, taxi driver or family man in 'peace time'?
HOW TO DIFFUSE A BOMB: PROJECT CHILDREN
2016/Northern Ireland (90 min)
Director: Des Henderson
The extraordinary untold story of how an NYPD bomb disposal expert played a key role in helping defuse the decades old "Troubles" in Northern Ireland.
In 1975 Denis Mulcahy - an Irish Immigrant - decided he couldn't stand idly by whilst Northern Ireland blew up on his nightly news bulletin. Along with his family and neighbours in small town New York he started a scheme that would ultimately see twenty three thousand children escape the worst of the violence and in the process discover they had more in common with the 'enemy' at home than they thought.
With stunning archive and exclusive contributions from Bill Clinton and Martin McGuinness, this feature-length documentary weaves the personal stories of the children who escaped the brutal violence with the wider political story of how Washington struggled to deal with the issue of Northern Ireland against the backdrop of Irish-America's complex relationship with home.
From the seemingly intractable conflict of the early seventies to the signing of an historic agreement in the late nineties, we chart the incredible story of how one man's visionary approach to reconciliation paved the way for peace in Northern Ireland.
MATTRESS MEN
2016/Ireland (82 min)
Director: Colm Quinn
In an attempt to save his struggling mattress selling business, sixty-something Michael Flynn reinvents himself as the eccentriconline persona'Mattress Mick', under the guidance of his good friend Paul Kelly. As business begins to grow, their friendship starts to implode.
PADDY MOLONEY: CHIEFTAIN
2015/Ireland (60 min)
Director: Liam McGrath
An intimate and revealing portrait of Irish traditional music icon Paddy Moloney.
In the latest in his series of documentaries about leading figures in traditional Irish music, award-winning director Liam McGrath turns his cameras on Chieftain Paddy Moloney. In a series of intimate interviews and specially-recorded performances and collaborations, Moloney reflects on his own personal journey and the music and people that shaped it.
THE WALL
2016/Norway (74 min)
Director: David Kinsella
THE WALL is the story of a young female poet in North Korea. The director, David Kinsella, wanted to make a real documentary, but the government in North Korea brought in over 1000 extras to make Kinsella produce what they wanted: propaganda.
Kinsella had to change his strategy. Under pressure from the North Korean censor, he filmed in such a way that animation could be overlaid onto the images when he returned to Norway – and used to tell the real story.
Understanding that in North Korea "all foreigners are spies and evil", David Kinsella realized that he had also been told this as a boy growing up in Northern Ireland – and so he made a comparison between his own childhood in Belfast, and his North Korean adventure movie.
REVOLUTIONS
2016/Ireland (88 min)
Director: Laura McGann
A roller derby story. Ireland's recession pushes young people out. Surplus to requirement in the world beyond the Roller Derby track, the fast paced and aggressive Derby world becomes a haven for determined, pissed-off women in a crippled country. Young Irish women go on a high-octane Roller Derby odyssey in search of a means for self-expression, a fight to be fought, and, above all, a team that needs them. But how will responsibility and power affect the new leaders? With total access over four years, starting with the first-ever Irish team as they prepare for the World Cup in 2011, Revolutions follows this exciting sports arc, capturing the story as it unfolds, and observing fascinating rivalries and real character development.
ROCKY ROS MUC
2016/Ireland (92 min)
Director: Michael Fanning
Global Vision Best Documentary 2017
From humble beginnings, to challenging for a world title crown. From the quiet Gaeltacht village of Ros Muc in Co Galway, to the criminal underworld of James 'Whitey' Bulger and the mean streets of Boston. Rocky Ros Muc examines spirit inside the ring and troubles outside; the reality of emigration and its impact on identity.
In the mid 1970's Sean Mannion left Galway for Boston. Like many before him, he left behind his home village of Ros Muc and headed for a new life in America.
He had a talent for boxing. His sparring partners at his gym were at the heart of Whitey Bulger's Winter Hill gang. Friends. Fellow emigrants. His world was their world. The fighting Irish. Drugs, racketeering and murder. This was the reality of life in South Boston.
In October 1984, Sean stood in the boxing ring in Madison Square Garden, in New York City, fighting for a WBA world title crown. His rise up the professional ranks wasn't straightforward. Neither was his descent.
ROCKY ROS MUC is Sean Mannion's story. His life and boxing career. The ups and downs of both.
A story of survival. Of determination, honour and strength. A story about identity and community. Not just for Sean Mannion, but for the thousands of emigrants like him.
SANCTUARY
2016/Ireland (86 min)
Director: Len Collin
Larry has Downs, Sophie has severe epilepsy. The two are attracted to each other and, through care worker Tom, they sneak away to a hotel room during a supervised trip to the cinema. What do they do once they are there? How do they express a love that dare not speak its name? Are they aware that in Ireland they are about to break the law?
While these questions are posed, the rest of their colleagues seek out their own challenges: an impromptu shopping trip, pints in the pub, and a surreptitious cuddle in front of a movie screen. Dave Allen once said, "The secret of comedy is small victories", and these mini triumphs offset the dramatic challenges that take place in a Galway hotel room between two lovers who refuse to be defined by their disabilities.