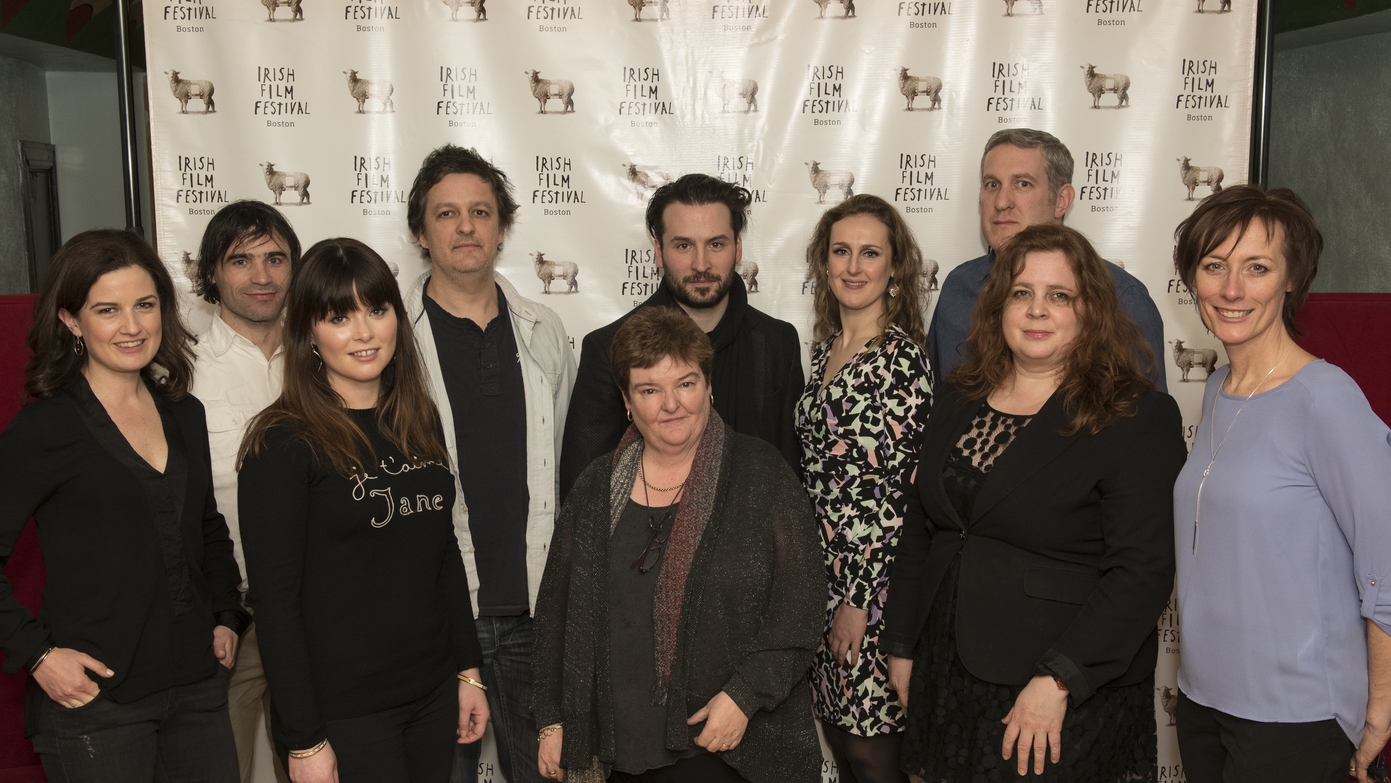 AN BRONNTANAS
2014/Ireland (112 min)
Director: Tom Collins
2015 Honoree: Special Jury Prize.
An Bronntanas is a contemporary thriller set against the background of a local independent lifeboat crew working off the coast of Conamara. The rescue crew receives a distress call on a stormy night to discover a fishing boat, its only passenger a dead woman and its cargo a million Euros worth of drugs. The crew is challenged with a moral dilemma – bring the woman on shore and hand the drugs to the authorities or leave the passenger and sell the drugs and save their struggling village. It's a decision that will change their lives forever
GOLD
2014 / Ireland (88 min)
Director: Niall Heery
2015 Honoree: Best Feature
Out of their lives for 12 years, Ray is on a mission to re-connect with his ex-girlfriend and teenage daughter who live with his former controlling and regimented P.E. teacher. Unfortunately, his efforts to bridge the gap with his daughter seem to lead to chaos, turning any good intentions he may have into comic catastrophe.
IN THE NAME OF THE FATHER
1993/Ireland (133 min)
Director: Jim Sheridan
A man's coerced confession to an IRA bombing he did not commit results in the imprisonment of his father as well. An English lawyer fights to free them.
THE GUARANTEE
2014/Ireland (76 min)
Director: Ian Power
The decision of the Irish government to guarantee the entire domestic banking system
in 2008 was the most significant in modern Irish history. The Guarantee tells the true story of what happened that night, and why.
THE LEGEND OF LONGWOOD
2014/Ireland (99 min)
Director: Lisa Mulcahy
Mickey Merill, a single-minded young girl, is dragged from the bustle of New York City to a remote corner of Ireland, where she finds the people swamped by the curse of a Black Knight seeking redemption. It is Mickey's destiny to free the people from this curse, and in doing so she goes on a thrilling adventure of mysterious happenings and challenging feats, where she must overcome the most ruthless of enemies, as well as her own denial about her past.
STANDBY
2014/Ireland (90 min)
Directors: Rob and
Ronan Burke
Twenty-something Alan finds himself stuck in a rut, working in Dublin airport. It's there he comes face-to-face with his first love, Alice, who is stuck on standby for a flight home to New York. He convinces her to stay one more night in Dublin. Standby is about what happens when your 20's don't go as you planned.
Shorts
ANYA
2014/ Ireland (6 min)
ANYWHERE BUT HERE
2014/ Ireland (21 min)
Director: John Hayes

BÓ
2014/Ireland (13 min)
Director: Oisin Bickley in person
A day in the life of Pearse O'Sullivan; dairy farmer, cow enthusiast, and now, expectant father.
BOOGALOO AND GRAHAM
2014/ Northern Ireland (14 min)
Director: Michael Lennox
Jamesy and Malachy are over the moon when their soft-hearted dad presents them with two baby chicks to care for. Raising their tiny charges, declaring themselves vegetarian, and dreaming of running a chicken farm, the two boys are in for a shock when their parents announce that big changes are coming to the family.
CÉAD GHRÁ
2014/ Ireland (12 min)
Director: Brian Deane

CUTTING GRASS
2014/ Ireland (13 min)
Directors: John Kennedy & Ruairí O'Brien
DEADLY
2014/ Ireland (9 min)
Director: Aidan McAteer
NOVENA
2013/Ireland (17 min)
Director: Anna Rodgers
A rare moment is captured when two people who are gay and lesbian are invited to give a speech at a Catholic mass in Dundalk, Ireland.
RIP IT UP AND START AGAIN
2015/ Ireland (7 min)
Director: Stephen Ryan

ROCKMOUNT
2014/ Ireland (14 min)
Director: Dave Tynan

RÚBAÍ
2013/ Ireland (11 min)
Director: Louise Ní Fhiannachta
SHOOT
2015/Ireland (4 min)
Director: Rory Conway
An assassin's best laid plans are foiled by a persistent pigeon.

THE PORTRAIT
2013/ United Kingdom (20 min)
Director: Chris Forster

TEA WITH THE DEAD
2014/ Ireland (7 min)
Director: Gary "Gilly" Gill
THE WEATHER REPORT
2014 / Ireland (5 min)
Director: Paul Murphy
Set in 1944, a lighthouse keeper and his wife have their quiet routine unexpectedly interrupted by a phone call.

THE RUNNING MAN
2014/Ireland (12 min)
Director: Ciarán O'Connor
Chris Devoy is no ordinary athlete. In his late sixties, he runs naked to the waist, no matter the time, no matter the weather.

THE SISTERS
2014/Ireland (23 min)
Directors: Ailish Sarah Flaherty
This is the story of a man who was born within the walls of a Mother and Baby Home.
Feature Documentaries
BLOOD FRUIT
2014/ Ireland (80 min)
Director: Sinead O'Brien
The story of young Dubliners who changed the face of the anti-apartheid movement around the world.
2:00pm - Theater 4

A CITY DREAMING
2014/Northern Ireland (65 min)
Director: Mark McCauley
Written and narrated by Gerry Anderson, this documentary feature film is a beautiful portrait of Derry~Londonderry. It's a story that weaves its way through half a century of history during a time that saw the city rise from poverty and neglect to hitting the headlines across the world.
ONE MILLION DUBLINERS
2014 / Ireland (83 min)
Director: Aoife Kelleher
2015 Honoree: Director's Choice Feature
Glasnevin Cemetery is the final resting place of 1.5 million souls; it is Ireland's national necropolis. One Million Dubliners reveals the often unspoken stories of ritual, loss, redemption, emotion, history - and the business of death. But this film is really
about life: the Saint Valentine's Day rush in the florists, the American visitors eagerly searching for Irish ancestors, lost and longed for love, discovery and bereavement, earthy gravediggers, and musicians in
celebration.
INEZ: A CHALLENGING WOMAN
2014/Ireland (33 min)
An award-winning documentary exploring the life of renowned Northern Irish trade union leader and human rights campaigner Inez McCormack, told in her own words months before she died.
IT CAME FROM CONNEMARA!!
2014/Ireland (60 min)
Director: Brian Reddin
This documentary tells the unique story behind legendary Hollywood B-movie producer Roger Corman's film studio in Connemara in the mid-1990s. In five years, he produced close to 20 feature films with Irish crew and Hollywood actors. It Came From Connemara!! lovingly tells this fascinating and often amusing story, using the testimonies of those who were there to make it happen.
MAIRÉAD FARRELL: AN UNFINISHED CONVERSATION
2014/Ireland (52 min)
Director: Martina Durac Writer/Presenter Bríona Nic Dhiarmada revisits the life and death of Republican icon Mairéad Farrell.