Saturday, March 24, 2018
12:00 PM | Somerville Theatre 5
2014/Ireland (93 minutes)
Director: Tomm Moore
Admission for 12s and under: $5.00
General admission: $12
Song of the Sea tells the story of Ben and his little sister Saoirse – the last Seal-child – who embark on a fantastic journey across a fading world of ancient legend and magic in an attempt to return to their home by the sea. The film takes inspiration from the mythological Selkies of Irish folklore, who live as seals in the sea but become humans on land.
Directed by Tomm Moore, Song of the Sea features the voices of Brendan Gleeson, Fionnula Flanagan, David Rawle, Lisa Hannigan, Pat Shortt and Jon Kenny. Music is by composer Bruno Coulais and Irish band Kíla, both of whom previously collaborated on The Secret of Kells.
Co-presented with the Belmont World Film's Annual Family Festival.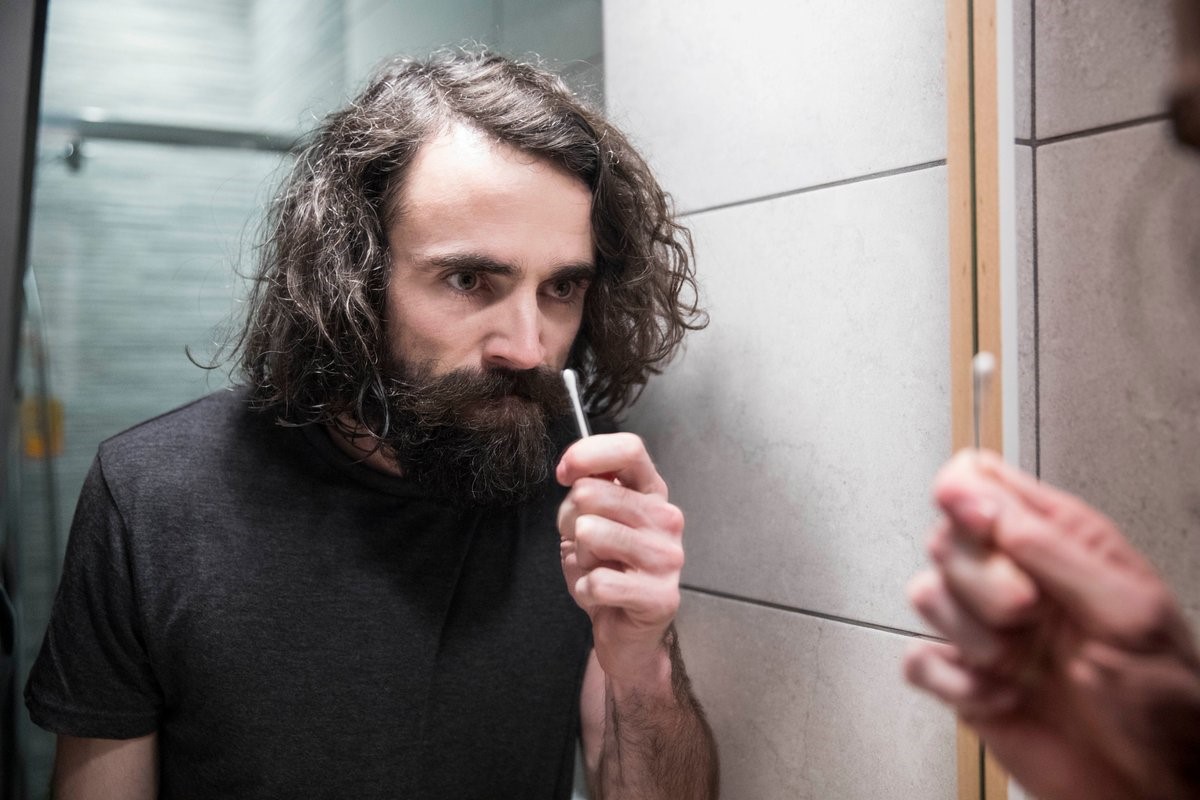 Casual
2017/Ireland (11 min 58 sec)
Co-directors: Aoife Nic Ardghail and Kate Dolan
Gustav
2017/Ireland (11 min)
Director: Denis Fitzpatrick and Ken Williams
Hidden Potential
2017/Ireland (11 min 7 sec)
Director: Eamonn MacMahon
Coyote
2016/Ireland (11 min)
Director: Dani Wall
The Family Way
2017/Ireland (18 min 35 sec)
Director: Nuno Bernardo
Roisin Kearney, Writer and Producer, in person.
Growing Alice
2017/Ireland (3 min 58 sec)
Director: Danilo Zambrano
Jon
2017/Ireland (6 min 17 sec)
Co-directors: Gemma Addy and Dave Slade
Stacey Lee
2017/Ireland (1 min 30 sec)
Director: Jennifer Meade

Marky's Bad Week
2017/Ireland/UK (6min)
Director: Daniel Holmwood
Coranna
2017/Ireland (8 min 50 sec)
Director: Steve Woods
Ticket price: $12:00
2:15 PM | SOMERVILLE THEATRE 5
In the Shadow of the Glen
(Anseo i lár an Ghleanna)
2017/Ireland (50 minutes)
Director: Seán Ó Cualáin
A century of continuous global change has devastated Ireland's rural communities, and vast areas, especially in the west of the country are being decimated. One such area is the village of Loch Con Aortha, a village situated at the foot of the impressive Cnoc Mordáin in west Conamara, a mountain that has for centuries been a defensive wall for its inhabitants, but which today can no longer defend the village from this most recent onslaught.
Since the 1970's the vigor of a vibrant close knit community, and it's ancient folk culture have vanished, now life itself is disappearing from the village to the point it seems 21st century Ireland holds no place for it in its future.
In this documentary director Seán Ó Cualáin tells the plight of his village as he follows a year in the life of the people of Loch Con Aortha. Understanding that the Gaelic civilization to which they belong to has disintegrated, they strive to protect and preserve their identity as they come to the realization that if they themselves cannot save their village, perhaps they can save its heritage.
Director Seán Ó Cualáin in person - Q&A

Irish language documentary.

Twitter.com/ShadowoftheGlen
Ticket price: $12:00
2:30 PM | SOMERVILLE THEATRE 1
Special Jury Prize,
The Breadwinner
2017/Ireland (94 minutes)
Director: Nora Twomey
From executive producer Angelina Jolie and the creators of the Academy Award-nominated The Secret of Kells and Song of the Sea, comes the highly-anticipated new feature based on Deborah Ellis' bestselling novel.
The Breadwinner tells the story of Parvana, an 11-year-old girl growing up in Afghanistan in 2001. When her father is wrongfully arrested, Parvana disguises herself as a boy in order to support her family. With dauntless perseverance, Parvana draws strength from the stories her father told her, and ultimately risks her life to discover if he is still alive. Equal parts thrilling and enchanting, The Breadwinner is a timely and inspiring tale about the transcendent power of stories, and their potential to unite and heal us all.
Parental Guidance Advised.
Ticket price: $12:00
3:30 PM | Somerville Theatre 5
2016/Ireland (54 minutes)
Director: Adrian McCarthy
In August 2016 Gary and Paul O'Donovan, two young rowers from the south west of Ireland, came from nowhere to become household names after bolting their way to silver medal success at the Rio Olympics. Not only did they become the first ever Irish rowers to bring home Olympic medals but within a week Paul also went on to become the fastest singles lightweight rower on the planet at the World Championships. This special one-hour documentary follows the O'Donovan brothers as they return to their parish of Lisheen and Skibbereen rowing club in the aftermath of their success. With catch phrases like 'Pull Like A Dog' and 'Stheak and Spuds' these two young men have succeeded in warming the hearts of a nation and changed the way we look at this minority sport.
Sneak peak preview
O
4:30 PM | Somerville Theatre 1
Global Vision Documentary,
The Farthest
2017/Ireland (122 minutes)
Director: Emer Reynolds
It is one of humankind's greatest achievements. More than 12 billion miles away a tiny spaceship is leaving our Solar System and entering the void of deep space - the first human-made object ever to do so. Slowly dying within its heart is a nuclear generator that will beat for perhaps another decade before the lights on Voyager finally go out. But this little craft will travel on for millions of years, carrying a Golden Record bearing recordings and images of life on Earth. In all likelihood Voyager will outlive humanity.
The Farthest celebrates these magnificent machines, the men and women who built them and the vision that propelled them farther than anyone could ever have hoped.
Director Emer Reynolds in person!
 
Join us for a post screening discussion on the intersection of science and storytelling.
Voyager's Golden Record sought to tell humanity's story to the universe. The mission itself forever changed the course of that story--stretching the limits of human potential and now extending our reach beyond our own solar system for the first time in history.
Join us for a screening of the film critics have called "a romantic and occasionally poetic tribute to the majesty of space", followed by a panel discussion exploring the intersections of science and storytelling featuring film's director, Emer Reynolds as well as MIT professors John Winston Belcher and Anna Frebel.

PANELISTS
Emer Reynolds
Director Emer Reynolds is an Emmy nominated multi-award winning documentary director and feature film editor, based in Dublin, Ireland.
John Winston Belcher
John Winston Belcher, PhD, is the Class of 1922 Professor of Physics at MIT. Professor Belcher's research interests are within the areas of space plasma physics, in particular the interaction of the heliosphere with the local interstellar medium. He was the principal investigator on the Voyager Plasma Science Experiment during the Voyager Neptune Encounter—the end of the Grand Tour. He is now a co-investigator on the Plasma Science Experiment on board the Voyager Interstellar Mission.
Anna Frebel
Anna Frebel, PhD is an Associate Professor of Physics at MIT with notable research into the oldest stars in the universe and the early evolution of chemical elements.
MODERATOR
Jen Myronuk
Jen Myronuk is the Co-Founder & Producer of STEM on Stage, a STEAM initiative to promote narrative science through living history and immersive media.
Co-presented with STEM on Stage and Women in Film & Video, New England
6:00 PM | Somerville Theatre 5
Kevin Roche:
The Quiet Architect
2017/Ireland (82 minutes)
Director: Mark Noonan
Still working at age 95, Pritzker Prize winning Irish-American architect Kevin Roche is an enigma. He's reached the top of his profession, but has little interest in celebrity and eschews the label "Starchitect". Despite a lifetime of acclaimed work that includes the Ford Foundation, Oakland Museum of California and 40 years designing new galleries for The Met in New York, he has no intention of ever retiring and keeps looking forward. Roche's architectural philosophy focuses on creating "a community for a modern society" and he has been credited with creating green buildings before they became part of the public consciousness.
Ticket price: $12:00
7:30 PM | Somerville Theatre 1
2017/Ireland (90 minutes)
Director: Alan Mulligan
James Allen is a man in control. He lives alone and works as a banker. He does his best to look after his widowed mother. What he doesn't know is that the bank he works for is about to repossess her home. When the stress of thisprovokes a family crisis, James begins to question his whole life and to glimpse the ruthless, manipulative black heart behind the glossy veneer of the banking world. He decides to take action.
The film explores limits imposed upon us by choices we make – limits set by our careers, by our desires, by our needs and even by the choice of who we love.
Director Alan Mulligan in person.
Ticket price: $12:00
plays with
QED
2017/Ireland (17 minutes)
Director: Amy Joyce Hasting
A couple dealing with the aftermath of a terrible accident explore what we will and won't sacrifice for the person we love.
QED poses the ultimate ethical quandary in a society where the right to die is forbidden by law.

2017/Ireland (89 minutes)
Director: Ross Whitaker
A year in the life of an Irish surf town at the mercy of the Atlantic Ocean. This observational feature – at times intimate, at times epic – embeds itself in the Big Wave surf community to present a thoroughly engaging and visually stunning portrait of the ever-changing life at land's end.
Facebook.com/BetweenLandandSea2017
Ticket price: $12.00
Our screening of Between Land and Sea is sold out. There will be a rush line.
A limited number of tickets may become available five minutes prior to the screening on a first-come, first-served basis.